The investigational IL-6 inhibitor olokizumab fared better than placebo and was noninferior to tumor necrosis factor inhibitor (TNFi) adalimumab (Humira) in patients with moderate to severe Rheumatoid arthritis (RA) who had had an inadequate response to methotrexate alone, according to new findings published in the New England Journal of Medicine.
The results of the phase 3, multicenter, double-blind, parallel-group, randomized, placebo- and active-comparator-controlled trial, called Rheumatoid arthritis clinical development for olokizumab (CREDO2), add to the evidence base for the drug, which was developed by R-Pharm in Russia and has been approved for use there. Last year, researchers reported the results of two trials that showed sustained improvements in symptoms, function, and quality of life in patients with an inadequate response to anti-TNF treatment.
"Once approved, olokizumab can be used in patients who have not responded well to methotrexate or any biologic disease-modifying antirheumatic drug or any JAK." [Janus kinase] inhibitor in combination with methotrexate or alone," said Josef Smolen, MD, professor of rheumatology at the Medical University of Vienna and lead author of the study.
The researchers randomly assigned 1,648 patients to olokizumab 64 mg every 2 or 4 weeks, adalimumab every 2 weeks, or placebo. All groups of patients continued to receive methotrexate.
A total of 89.7% of the participants completed 24 weeks of treatment. At that time, 74.1% of those receiving olokizumab every 2 weeks had achieved an ACR 20 response, an improvement of at least 20% in the American College of Rheumatology response criteria, including tender and swollen joints, and 71.4% in the group that received olokizumab every two weeks. 4 weeks; 69.0% in the adalimumab group; and 46.5% in the placebo group had achieved an ACR 20 response.
Benefits of olokizumab were also seen for 28-joint disease activity score, disability index scores and ACR 50 responses, the researchers reported.
Approved IL-6 inhibitors tocilizumab (Actemra) and sarilumab (Kevzara) target the interleukin (IL)-6 receptor (IL-6R), but olokizumab targets a protein, glycoprotein 130 (GP130), to which the IL-6 and IL-6 receptor complex binds. 6. This approach could offer additional benefit, Smolen said.
"Previously studied anti-IL-6 antibodies and anti-IL-6R antibodies prevent binding of IL-6 to IL-6R," he said. "Also, the amount of protein needed to inhibit IL-6 is less compared to approved anti-receptor antibodies. Olokizumab has also been shown to be effective when given every 4 weeks in many patients, compared to needing weekly or every two weeks. weekly applications with tocilizumab and sarilumab. From these perspectives, this new mode of action may indeed provide an advantage."
ACR 70: An improvement of at least 70% in the ACR response criteria, which was an exploratory endpoint in the trial. This response was seen in 28% of those who received olokizumab, compared to 11% in the placebo group, but the researchers cautioned that "no conclusions can be drawn from these results."
another drug sirukumabit also targeted the IL-6 ligand instead of the receptor, but was rejected by regulators in 2017 because many more deaths occurred in the treatment group than in the placebo group.
Smolen noted that there are three binding sites for IL-6, but olokizumab is the first to target site 3, the binding site for GP130. No mortality concerns have been noted for olokizumab. There were three serious adverse events leading to death in the olokizumab every 2 weeks group; two in the olokizumab every 4 weeks group; one in the adalimumab group; and one in the placebo group.
"The fact that olokizumab targets a different site on the IL-6 molecule than sirukumab may be one reason for the difference," Smolen said.
Still, the researchers noted that the time horizon for this trial is not very long.
"The trial was conducted in a relatively small number of patients and of short duration, especially for evaluation of rare events or events requiring longer exposure," they wrote. "Increasingly large trials are required to determine the efficacy and safety of olokizumab in patients with rheumatoid arthritis."
Smolen said he expects R-Pharm to apply for regulatory approval in the United States and Europe, outside of Russia, next year.
Paul Emery, MD, a professor of rheumatology at the University of Leeds, England, who has investigated IL-6 therapy in RA, said that olokizumab appears to be an effective product, but its use remains in question.
"The question is where it will fit into treatment strategies," he said. It will be very interesting.
Emery noted that tocilizumab, which inhibits IL-6 by blocking the IL-6 receptor, was approved in the United States at a dose that was not optimally effective after failure of TNF inhibitors (TNFi), and was he asked if olokizumab would perform differently in this regard.
While Emery said it was important that no bad safety signals had been seen, he noted that "this is a short-term study, and you need to see the long-term data."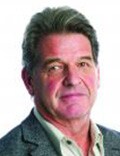 "It appears to work at both intervals that it has been tested, 2 and 4 weeks. What is unknown is whether it will be as effective as IL-6 receptor blockers in other diseases," as giant cell arteritis, "and early disease, and will it work as well after TNFi," he said. "It could be used as a first advanced therapy for people with contraindications to TNFi, but initially most of its use will be after TNFi, and that's why we need to see more data on these patients."
He added: "The final issue will be price. So a positive study, but a lot is still unknown."
The study was supported by R-Pharm. Smolen reports financial relationships with R-Pharm, AbbVie, Janssen, Eli Lilly, Gilead, Pfizer, and other companies. Emery reports financial relationships with AbbVie, AstraZeneca, Janssen, Pfizer, Roche and other companies, but not with the maker of olokizumab R-Pharm.
This article originally appeared on MDedge.compart of the Medscape professional network.